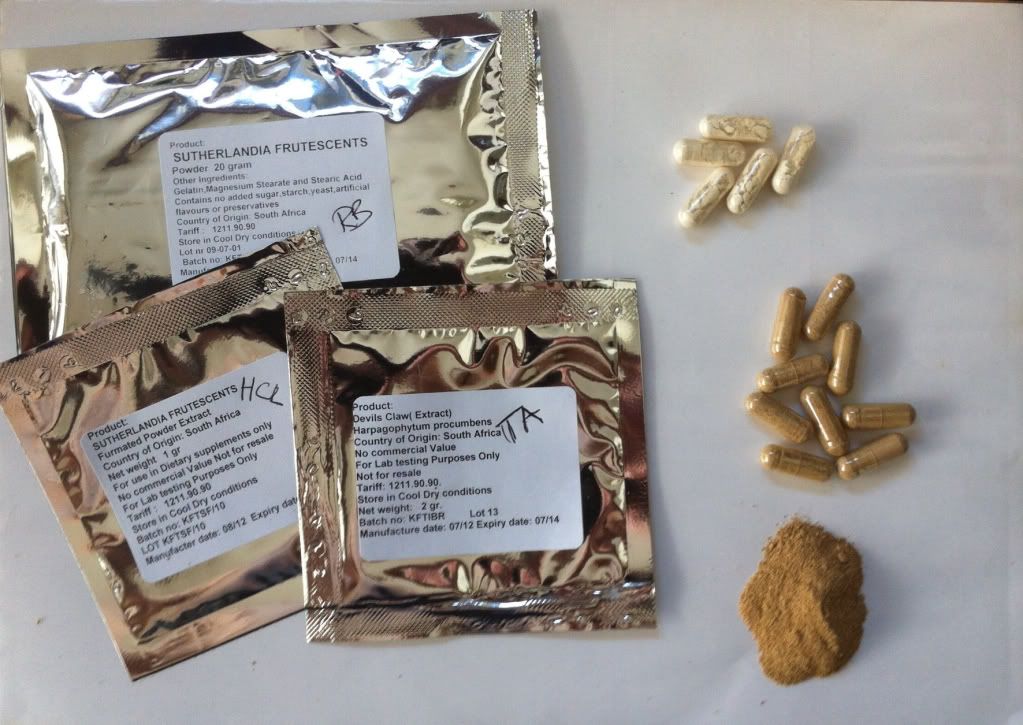 I have all my medicene now for my flood in a couple of weeks!
Above, from left to right starting fro the top, we have: 20 grams of raw iboga root bark, 1000mg ibogaine in capsules (HCL, purified from iboga), 1800mg iboga bark in capsules. 3000mg raw root bark (RB) then in the bottom right silver satchel another 2000mg TA and to the left of that a further 1000mg HCL.
The material is from iboga world, I used them last time and the material is good quality and its couriered really fast., 36 hours from Cape town, South Africa!
This may seem a lot but is enough for my flood, some boosters and then some. The last couple of attempts I've actually ran out, not had enough for boosters and ended up relapsing so I've made certain I have plenty this time!
I was going to combine TA with my HCL flood dose but have now decided not to,. TA, being the full alkaloids is much more likely to cause nausea and vomiting medicene before it has been absorbed is costly in more ways than one.
I vomited pretty much all the HCL last time I flooded, this combined with coming off a pretty big methadone habit I'm convinced is part of the reason I couldn't stay clean and relapsed.
So, here's my itinery/dosing schedule.. Bear in mind this is only a guide and in most cases needs to be altered. It's a rough guide, dosing needs to be played by ear somewhat, giving iboga as required in the days and weeks post flood to deal with PAWS and cravings.
My last hit of morphine will most probably be taken in the afternoon of the day before the flood.
As you need to wait as long as possible before taking the iboga and I've found I can go the longest between doses overnight, I think this is my best option to get as long as I can betwee last dose and flood.
Maybe 3pm the day before I'll have my last hit. I'll also stop eating solids at this point. Maybe a light soup for dinner, the idea is to have as empty a stomach as possible before ingesting the medicene.
By bed time I'll probably be feeling a little crappy so will probably take half a diazepam or similar.
The next morning more of the same, no solids, reduced liquids.. It's a good idea to drink something with electrolytes in it in the days leading up to flooding so dioralyte is good, or even lucozade.
3pm will be the 24 hour mark and is really the minimum amount of time I need before dosing so I'll probably go longer. It helps to know that within an hour of dosing with iboga the withdrawals will be gone!
I'm hoping to get to the evening, maybe even as late as 8 or 9pm, 30 hours would be great, there's also a reason for flooding overnight, senses are heightened on iboga, noises, lights, smells etc.. I live in central London, it's pretty noisy and nightime would be a lot better. It will be dark too, hyper photosensitivety is a side effect best avoided!
I'll take a 'test dose' (200mg HCL) an hour before the full flood, this is just in case there's any reaction. I was fine last time so should be again.. I hope!
After the hour I'll feel a little trippy, a little unsteady on my feet and most likely have that notorious buzzing in my ears.
At this stage I'll take the rest of my flood dose, I'm 67kg and am planning on taking around 19mg/kg, this is around the middle of the usual dose range for opiate detoxes. The usual dose range is between 15mg and 22mg per kg of body weight. My dose therefore works out to a further 1000mg HCL, 1200mg in total.
Time to go lie down and wait for it to hit!
I will have had my base line blood pressure and heart rate taken well before this stage and they will be monitored regularly for at least the first 12-18 hours.
Iboga can prolong qt interval and lower blood pressure. This is the reason any provider worth his salt will insist on having an ECG and a full blood panel done beforehand. Most pre-existing heart conditions will unfortunately rule you out of iboga treatment.
If everything goes to plan I'll spend the next eight to ten hours tripping balls haha..
Last time my acute withdrawl symptoms were zilch, nada, zero.. Incredibly, when technically I should be at the peak of withdrawal, iboga takes it all away!
After the initial intense trip comes the so called 'dream state', this can last up to around 36 hours, last time I just laid in bed, I couldn't really talk or move much but I had a general feeling of, well, warmth and security, like the plant spirit had taken me in its arms and was protecting me. I felt safe, not scared, or sick.
By 48 hours I'll be coming round, able to talk and most importantly over three days clean from opiates!
Iboga has a stimulant effect, one of its original uses by the pygmies was a stimulant and aid to hunting. This means insomnia is par for the course unfortunately.
I'll not be feeling great, it can take a good week to two months to get your energy back. Over the next days and weeks I'll take a booster as required, 200mg of HCL or 400 mg of TA.
It's usually advised you take a booster on day 7 no matter what.
The idea is to keep the levels of nor-ibogaine up in the body. (Nor-ibogaine is what ibogaine is metabolised to in the liver and is generally believed to be responsible for the anti craving effect)
Taking more iboga after a flood is the last thing you want to do though, trust me.
This is where having an experienced provider to tell you to take it can be handy!
I'll be posting updates anyway and a few people are trying to convince me to broadcast the flood live over webcam!